Classes and Events
Classes
Interested in learning how to Knit or Crochet? Want to improve your skills and try new techniques? Our classes and knitalongs are the perfect way to meet your goals. Each session is led by a member of our team of expert instructors. Call us at 513-386-9869 or email us at [email protected] to register.
SWEATER SCHOOL    Level: BEGINNER    Fee: $75 + supplies
Our Wednesday and Thursday Sweater Schools are full, but we currently we have openings in the following

Rookie Sweater School

Mondays (1/6-3/23) - 10:30 am - 12:30 pm
Wednesdays (1/8-3/25) - 11:00 am - 1:00 pm

Sweater School
Saturdays (1/4-3/28) - 2:00 pm - 4:00 pm
SLIDE INTO KNITTING      Level: Beginner      Fee: $75 + supplies
SLIDE INTO KNITTING is starting in January. Hank has collected pattern ideas to help you get started, both sweaters and accessories. Feel free to also bring in your own ideas. Knitting in a group is more fun. This is a chance to find your knitting community and share ideas.

Session 1: Tuesdays 1/7-3/30, from 1 pm - 3 pm.                          Merri Martin 

Session 2: Thursdays through 1/9-3/26 , from 6 pm - 8 pm.            Clare Richart 
INTRODUCTION TO KNITTING    Level: Beginner    Fee: $45 + supplies
This class is for those who have NEVER knit before. In this 3 session introduction to knitting, first-time knitters will learn the long-tail cast-on, the knit and purl stitches, and how to bind off in both. You will make a sampler cowl to practice your stitches and improve your skills.


Saturday 1/11, 1/18, 1/25
11:00 am - 1:00 pm    
BEGINNING SOCKS      Level: Advanced Beginner      Fee: $45 + supplies
 

Learn to knit a beautiful pair of socks! Sock instruction helps develop / enhance skills in working smoothly with double pointed needles, turning heels with short rows, making gussets, picking up stitches, shaping with mirrored decreases, and finishing with the Kitchener Stitch for a seamless toe. If you want to expand your knitting skills while making a small, portable project, this is the class for you. You must know how to cast on, knit, purl, and bind off.

Sunday 1/12, 1/19, 1/26  1:00 pm – 3:00 pm                          Clare Richart
RAVELRY 101   Level: All   Fee: $20 bring your laptop or tablet fully charged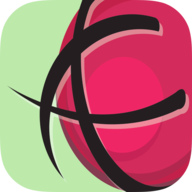 Ravelry is a great resource for knitters and crocheters, as long as you know how to navigate it.  If you feel a tour of the website is necessary, Merri is going to be your guide. Join her to learn how to use its features and do a dive into how to access the information available about both patterns and yarns.  
Tuesday 1/13  1:00 pm - 3:00 pm      Merri Martin
CLOUDLINE HAT   Level: Advanced Beginner  Fee: $30 + supplies 
 

Cloudline is a perfect "first hat" or seasoned knitter pattern. This hat is knit using only basic techniques and is the perfect project for practicing circular knitting (or for whipping up last-minute gifts!).

Cloudline's bi-colored marl fabric is created by holding two strands of fingering-weight Peerie together as you knit. With 45 colors to mix and match, hundreds of striking fabrics can be created, allowing for endless variations and a finished look that's uniquely your own.

Monday 1/20, 1/27    1:00 pm - 3:00 pm                               Michelle Kirby

 

 
DENIM DUDE   Level: Intermediate  Fee: $30 + supplies 
 

Denim Dude is a lovely little set for any handsome boy. A written pattern that is easy to follow. This is worked flat on two needles with one seam on each piece. A baby girl could wear this as well, or even better try shades of pink denim. No colour is wrong with this cute set.

Friday 1/24, 1/31    11:00 am - 1:00 pm                               Roz Robbins

 

 
Finishing / Private Lesson Class    Fee: $30 per hour + supplies billed in 1/2 hour increments
Finishing classes are available one on one. Bring a project to finish as we help you work through picking up stitches, adding button bands, blocking, & seaming as your pattern requires. Private Lessons are also available at the same rate. Sessions are scheduled individually. Call us at 513-386-9869 or email us at [email protected] to schedule.
What's on our needles...
Our staff members ALWAYS have projects on their needles. Take a look to see if anything we are working on inspires you. Come see Hank and we will help you get a new project on your needles.
HEFT COWL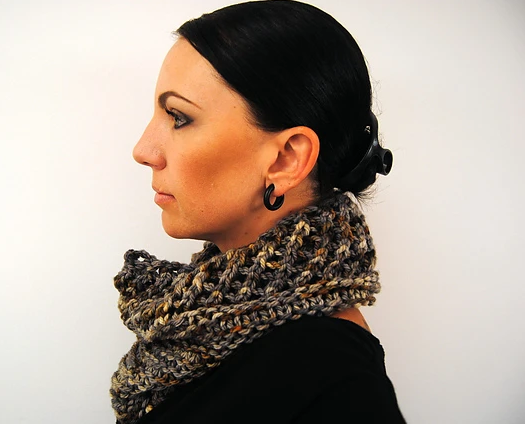 Madeline is making this cowl using the National Parks Chunky yarn. The different color ways give each one a unique look. A great idea for those who like quick knits.
LIGHTHOUSE HAT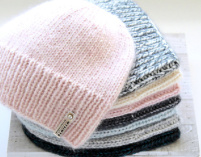 This warm and fuzzy hat is another quick knit. Rowan Kidsilk Haze is held with a strand of Katia Cotton Merino to create a luxurious fabric. Roz has knit a sample you can see in the shop.


 

 
SHOULDER FORWARD PULLOVER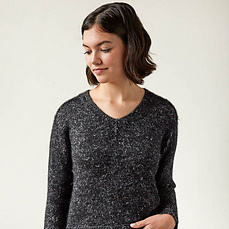 This is a good entry level sweater. Patti is knitting hers with Kelbourne Woolens Scout. This dk weight yarn has a gorgeous color palette.
TANG PULLOVER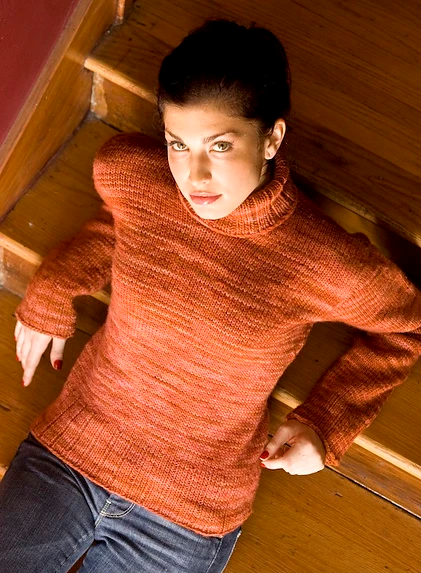 Clare is knitting this top down raglan sleeve turtleneck. It will be a nice sweater to transition through the seasons using Blue Sky Organic Cotton Worsted.
PARTY TOP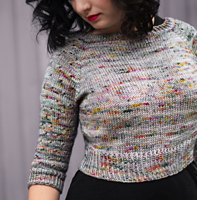 This cropped, fitted sweater features eyelet details on the sleeves. Merri will be adding this piece to her wardrobe. Hand dyed yarns will work well with this simple design.
MARTE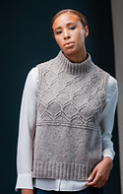 Brooklyn Tweed is a master of detail in their designs. This season spanning garment will be a functional layering piece. Kathy is knitting with Loft, a light and airy fingering yarn from Brooklyn Tweed.
LARCH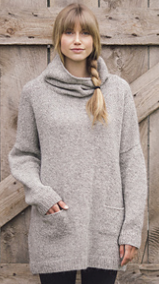 Larch is the ultimate in comfort wearing and knitting. Worked in the round from the bottom up, it's very nearly dress length, with deep pockets and an ample cowl neck. The simple details of this piece combined with miles and miles of quick-gauge stockinette makes this a soothing knit.  Laurie is using a worsted weight yarn. Brooklyn Tweed Shelter or Blue Sky Woolstock are great options.
 
GET TO KNOW HANK
Do you a group of friends who knit or crochet? Schedule a group outing to get to know Hank! As part of your shopping experience, we will provide a personal shopper for your group of 5 or more. This can be arranged during regular store hours, or as an after hours personal shopping experience. Call us to set the date!
CLASS POLICIES:
Classes must be paid for at registration.
Store credit will be given if cancelled 72 hours prior to the start of class.
No refunds will be given for missed classes.
Classes start promptly, so please be on time.
Please silence your cell phone during class.
All yarns used in the classes must be purchased from Hank unless the class is set up to use yarn from your stash.
Supplies must be purchased prior to the start of class.
Class size is limited.
Space in class is limited to registered students. This means no guests (adult or child).
Classes may need to be postponed & rescheduled in case of bad weather.