Classes and Events
Classes
Interested in learning how to Knit or Crochet? Want to improve your skills and try new techniques? Our classes and knitalongs are the perfect way to meet your goals. Each session is led by a member of our team of expert instructors. Call us at 513-386-9869 or email us at hankyarn@me.com to register.
BEGINNING SOCKS      Level: Advanced Beginner      Fee: $45 + supplies
Learn to knit a beautiful pair of socks! Sock instruction helps develop / enhance skills in working smoothly with double pointed needles, turning heels with short rows, making gussets, picking up stitches, shaping with mirrored decreases, and finishing with the Kitchener Stitch for a seamless toe. If you want to expand your knitting skills while making a small, portable project, this is the class for you. You must know how to cast on, knit, purl, and bind off. 
Sunday 6/9, 6/16, 6/23  1:00 pm – 3:00 pm    Clare Richart
EMILIA SHAWL    Level: Confident Beginner    Fee: $20 + supplies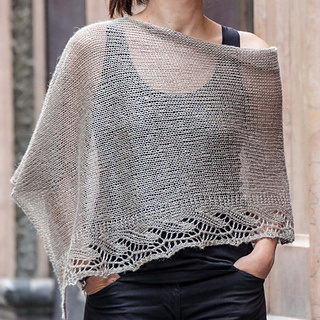 This beautiful shawl/poncho knit in a summer fiber is the perfect ally for a simple dress or summer shirt look.
Whatever color you choose, it will turn out stunning. It's a quite easy garment to knit, it's secret resides in a good blocking.  Once blocked it will look just as good as in the pictures 
It is perfect for spring/summer; the fabric is light and has a wonderful give, the final result is light and elegant.
Session 1: Tursday 6/13, 6/20
2:00 pm - 4:00 pm    Madeline Gilligan
Session 2: Saturday 6/15, 6/22
11:00 am - 1:00 pm    Merri Martin
Finishing / Private Lesson Class    Fee: $30 per hour + supplies billed in 1/2 hour increments
Finishing classes are available one on one. Bring a project to finish as we help you work through picking up stitches, adding button bands, blocking, & seaming as your pattern requires. Private Lessons are also available at the same rate. Sessions are scheduled individually. Call us at 513-386-9869 or email us at hankyarn@me.com to schedule.
What's on our needles...
Our staff members ALWAYS have projects on their needles. Take a look to see if anything we are working on inspires you. Come see Hank and we will help you gat a new project on your needles.
RIGHT AROUND THE CORNER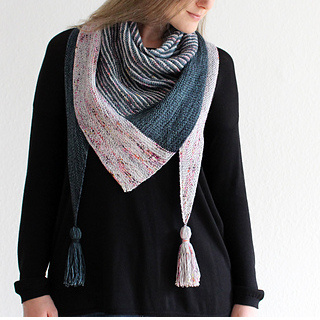 This fun shawl features a play with different colours, different knitting directions, stripes and colour blocks.
The pattern is a fun and easy knit. Multiple colours and knitting directions keep your interest and make for an engaging project.
Use it to highlight your favourite hand-dyed speckled skeins or choose two solids, go as subtle or as colourful as you like.
The finished shawl will add a modern, cosy-to-wear item to your daily wardrobe staple.
SLEEVELESS SLIPOVER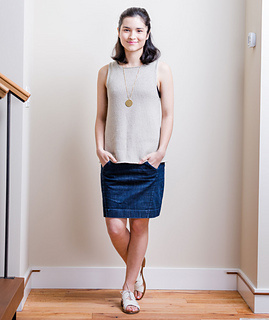 This style is so versatile, we all wanted different lengths. So here you have it—cropped, hip, tunic, and dress lengths. Or any length you'd like! It's quite simple to customize your Slipover—for your personal style or body type, as a long layer with side vents, or as a short topper over a tee, to be dressed up or down.
We designed eight different sizes and four different lengths. There are so many beautiful textures and fabrics and colors to play with. You might want to knit a few and mix it up!
INSOUCIANT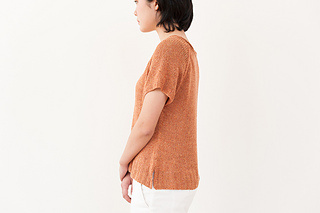 A flattering-on-everyone silhouette and meticulous details like a rolled neck, exposed raglan seams and side slits, this sweater is among my favorites. Wear it casual or with something dressier, for an easy elegance upgrade. Loose fit. Scoopneck. Short sleeves. Falls just below hip.
PHI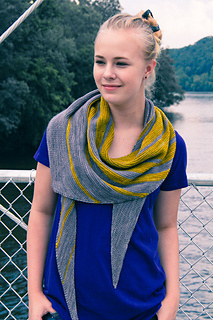 The Golden Ratio, or Phi, represents harmony in nature, art and mathematics, and embodies the human perception of beauty. This asymmetric shawl harmoniously blends two colors to the Golden Mean, and then back again, using the Fibonacci sequence to determine the width of the stripes and their relation one to the next … All knitting, always pleasing, with a graphic , and harmonious result.
INDNESS SHAWL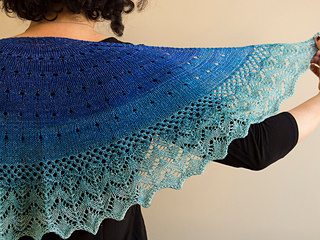 Mesh, lace and a soothing color make the Kindness KAL shawl a lovely project to keep or give to a loved one. Intuitive increase construction and understandable lace patterns make it less difficult than it may first appear!
GET TO KNOW HANK
Do you a group of friends who knit or crochet? Schedule a group outing to get to know Hank! As part of your shopping experience, we will provide a personal shopper for your group of 5 or more. This can be arranged during regular store hours, or as an after hours personal shopping experience. Call us to set the date!
CLASS POLICIES:
Classes must be paid for at registration.
Store credit will be given if cancelled 72 hours prior to the start of class.
No refunds will be given for missed classes.
Classes start promptly, so please be on time.
Please silence your cell phone during class.
All yarns used in the classes must be purchased from Hank unless the class is set up to use yarn from your stash.
Supplies must be purchased prior to the start of class.
Class size is limited.
Space in class is limited to registered students. This means no guests (adult or child).
Classes may need to be postponed & rescheduled in case of bad weather.